GlobeNewswire
Fisker's (FSR) Shares Plummet Following Revenue Miss, Widening Losses, 10-Q Delay and CAO Departure – Hagens Berman
Hagens Berman, National Trial Attorneys, Encourages FSR Investors with Substantial Losses to Contact Firm's Attorneys Regarding Investigation into Possible Securities Law Violations
News provided by
Hagens Berman Sobol Shapiro LLP
Nov 20, 2023, 12:08 PM ET
SAN FRANCISCO, Nov. 20, 2023 (GLOBE NEWSWIRE) -- Hagens Berman urges Fisker Inc. (NYSE: FSR) investors who suffered substantial losses to submit your losses now.

Visit: www.hbsslaw.com/investor-fraud/FSR
Contact An Attorney Now: FSR@hbsslaw.com
                                                  844-916-0895
Fisker Inc. (NYSE: FSR) investigation:
The investigation focuses on Fisker's reported financial performance and internal controls over financial reporting.
Fisker had been scheduled to report its Q3 2023 financial results before markets opened on Nov. 8, 2023. Instead, that day the company announced that it is delaying the earnings release until after markets close on Nov. 13, 2023. Fisker blamed the delay on the unexplained departure of its, now former, Chief Accounting Officer on Oct. 27, 2023 and the appointment of a replacement effective Nov. 6, 2023.
Then, on Nov. 13, 2023, Fisker released dismal Q3 2023 results, reporting that it lost $91 million in the third quarter and generated revenues of only $71.8 million, well below analysts' expectations. In addition, the company failed to provide production guidance. It further revealed that material weaknesses in its internal control over financial reporting prevented it from timely filing its quarterly report with the SEC.
These events caused FSR shares to decline sharply.
"We're focused on investors' losses and are investigating the accuracy of Fisker's statements concerning its internal controls over financial reporting" said Reed Kathrein, the Hagens Berman partner leading the investigation.
If you invested in Fisker and have substantial losses, or have knowledge that may assist the firm's investigation, submit your losses now »
If you'd like more information and answers to frequently asked questions about the Fisker investigation, read more »
Whistleblowers: Persons with non-public information regarding Fisker should consider their options to help in the investigation or take advantage of the SEC Whistleblower program. Under the new program, whistleblowers who provide original information may receive rewards totaling up to 30 percent of any successful recovery made by the SEC. For more information, call Reed Kathrein at 844-916-0895 or email FSR@hbsslaw.com.
About Hagens Berman
Hagens Berman is a global plaintiffs' rights complex litigation law firm focusing on corporate accountability through class-action law. The firm is home to a robust securities litigation practice and represents investors as well as whistleblowers, workers, consumers and others in cases achieving real results for those harmed by corporate negligence and fraud. More about the firm and its successes can be found at hbsslaw.com. Follow the firm for updates and news at @ClassActionLaw. 
Attorney advertising.
Past results do not guarantee future outcomes.
Services may be performed by attorneys in any of our offices. 
Contact:
Reed Kathrein, 844-916-0895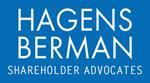 NOTE: This content is not written by or endorsed by "WVNY/WFFF", its advertisers, or Nexstar Media Inc.
For inquiries or corrections to Press Releases, please reach out to GlobeNewswire.