Beef and Guinness stout pie is the ideal dish for your St. Patrick's Day meal
In addition to wearing green, decorating with shamrocks and planning an Irish-themed get-together, you may want to celebrate St. Patrick's Day by making a traditional Irish recipe.
A beef and Guinness stout pie is a hearty, crowd-pleasing dish that captures the essence of the March holiday. But if you've never made this tasty meal, you don't need the luck of the Irish to achieve perfect results. We turned to BestReviews cooking expert, Andrea Boudewijn, for tips, her favorite recipe and product recommendations that will help you master this St. Paddy's Day favorite.
In this article: Le Creuset Enameled Cast Iron Signature Round Dutch Oven, Babish High-Carbon German Steel 8-inch Chef Knife and John Boos Maple Wood Edge Grain Reversible Cutting Board.
What is beef and Guinness stout pie and what are its origins?
As you might expect from the name, beef and Guinness stout pie consists of beef with a pie-like crust. Boudewijn explained what to expect of the delicious Irish treat.
"Beef and Stout pie is one of my favorite comfort foods any time of the year, but it's especially appropriate to make in late winter, right around St. Patrick's Day, as it's a traditional Irish dish," she said. "Similar to American pot pie, this savory stew pie is baked in a Dutch oven and covered with a pastry. It's generally served in a single pot but could be adapted to make individual servings."
Serving beef in rich broth or gravy with vegetables in pastry isn't a new idea. Thought to have originated in ancient times, it was popularized in Britain hundreds of years ago.
The Irish version typically includes beef, potatoes, carrots and onions stewed in classic Irish Guinness stout with herbs and spices. Although other stouts can be used, Guinness stout is a traditional favorite. In fact, the delicacy is often referred to simply as "Guinness Pie."
"Grab a Guinness or your favorite Irish stout and have fun putting together this delicious savory Irish beef and stout pie," Boudewijn said, adding a few tips for excellent results. "Give yourself a few hours for prep and cooking. If making it for dinner, you'll want to start around noon. Enjoy it any time of year, but especially when you want to celebrate the Irish in your life on St. Patrick's Day."
Boudewijn's favorite beef and stout pie recipe
Beef and Guinness Pie
This Guinness stout pie recipe is sure to impress, especially when serving a special meal on St. Patrick's Day. Boudewijn explained what to expect when making the dish, which serves 10.
"For this pie, you'll be making two pie crusts and a thick stovetop stew to go between those crusts and sealed inside them," she said, adding an alternative method can be used. "Another way to serve this is to put the finished stew in a bowl and top with baked rounds cut to the size of your serving bowls (just roll out your dough, flip the bowls upside down on the crust, and cut them out with a knife)."
Ingredients:
7 tablespoons olive oil
12 ounces white button mushrooms, quartered
1 1/2 cups frozen pearl onions, thawed
Salt and freshly ground pepper, to taste
3 1/2 pounds beef chuck roast, cut into 1-inch cubes
1 cup all-purpose flour
3 garlic cloves, minced
2 tablespoons tomato paste
2 1/4 cups Guinness Irish Stout
1 cup beef broth
1 pound carrots, cut into thick coins
12 ounces red potatoes, cut into large dice
1 tablespoon fresh thyme leaves
2 premade pie pastries
1 egg, beaten
Method:
Start with your largest Dutch oven (6 quarts or more — you'll need room to stir all the vegetables) and over medium heat add about a tablespoon of olive oil, the mushrooms, onions, and salt and pepper. Stir them occasionally and cook for 12 minutes or so, then transfer everything to a bowl to rest
Salt and pepper your beef well, then coat it in the flour and shake off any excess. Add more olive oil to the Dutch oven and over medium-high heat add the beef cubes and brown on all sides. Transfer to a bowl to rest. Add 1/2 cup of water to the hot pot and deglaze it, scraping up the brown goodies at the bottom. This process might be easier done in two or three batches — make sure your beef has room to brown, and deglaze after browning each batch.
Still on medium-high heat, add the garlic and tomato paste and cook for about a minute stirring constantly to avoid burning the garlic. Add the beef, Guinness, broth, and reserved liquid and stir to deglaze. Add the mushrooms, onions, carrots, potatoes and thyme and bring to a soft boil. Reduce the heat to low, cover and simmer it for about three hours (until the beef and veg are tender).
Preheat the oven to 400 degrees.
Thaw and combine the pie pastries to make a large 16-inch round, or at least a large enough round to lay over the top of the Dutch oven and allow for a 1-inch overhang. Seal the pastry around the edges — the pastry will fall in the middle onto the filling.
Cut three small slits in the center of the pastry, and bake for 30 minutes, then let it rest for 10 to 20 minutes.
Serve it warm (with a pint of Guinness, of course)
Best products for making beef and Guinness stout pie, recommended by BestReviews' cooking expert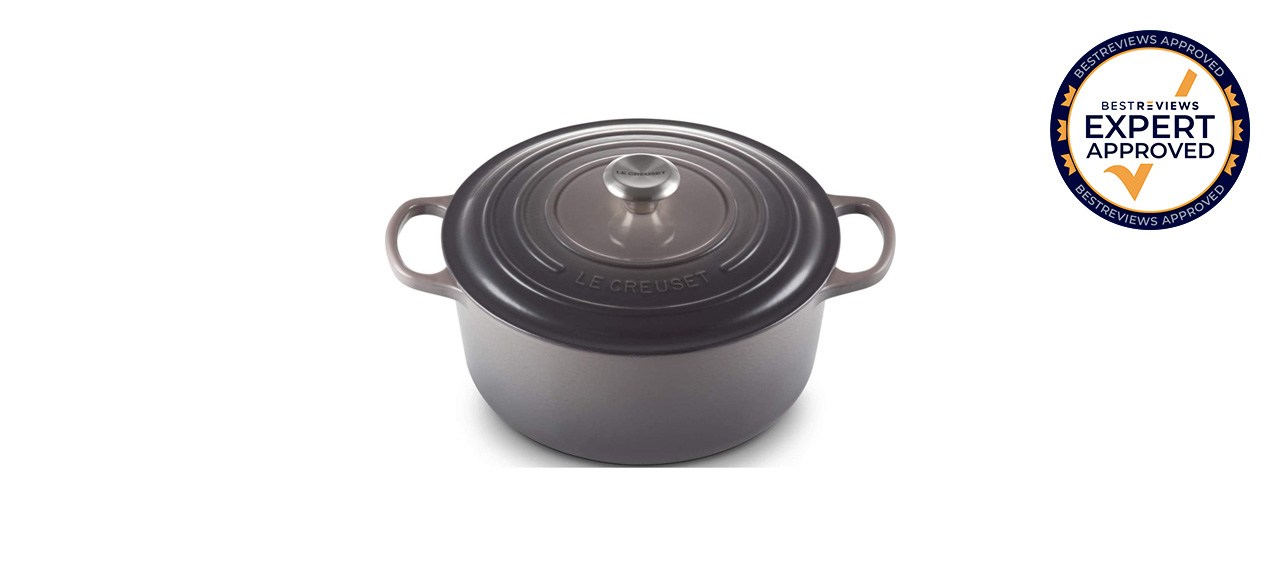 Le Creuset Enameled Cast Iron Signature Round Dutch Oven
Built to last and make cooking a breeze, this Dutch oven boasts an enameled finish that resists stuck-on food and cleans easily. The cast iron construction withstands temperatures up to 500 degrees. It comes with a lid that provides an excellent fit.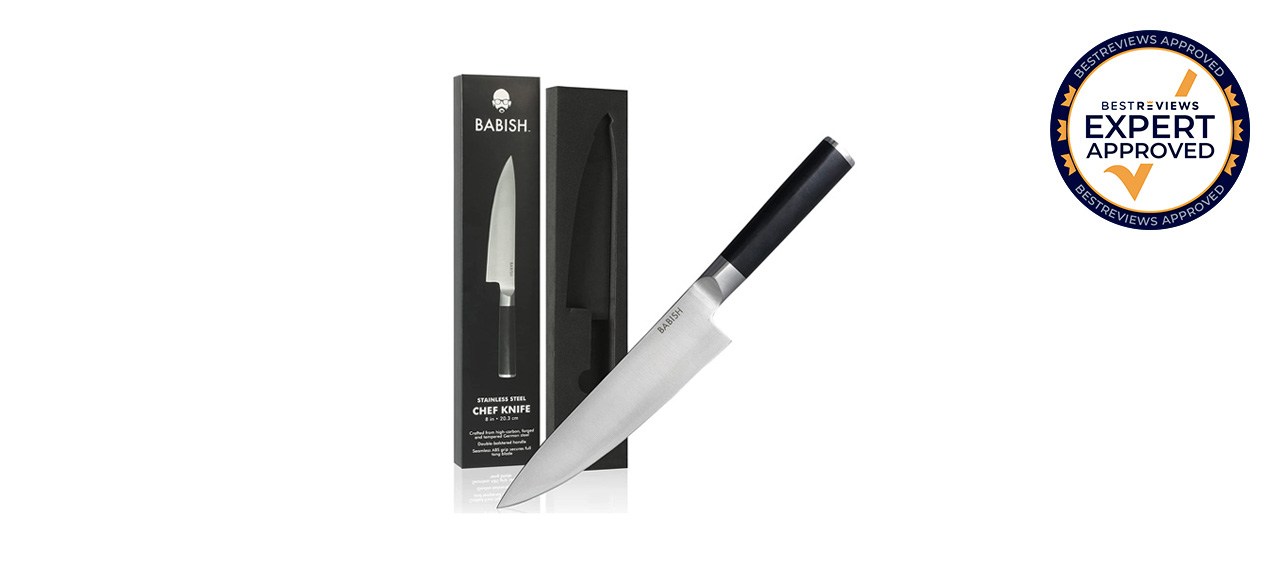 Babish High-Carbon German Steel 8-inch Chef Knife
The right knife will make quick work of preparing vegetables and other ingredients for your Guinness pie. Made of quality materials, this durable knife gets the job done and has a blade that maintains a sharp edge cut after cut.
Sold by Amazon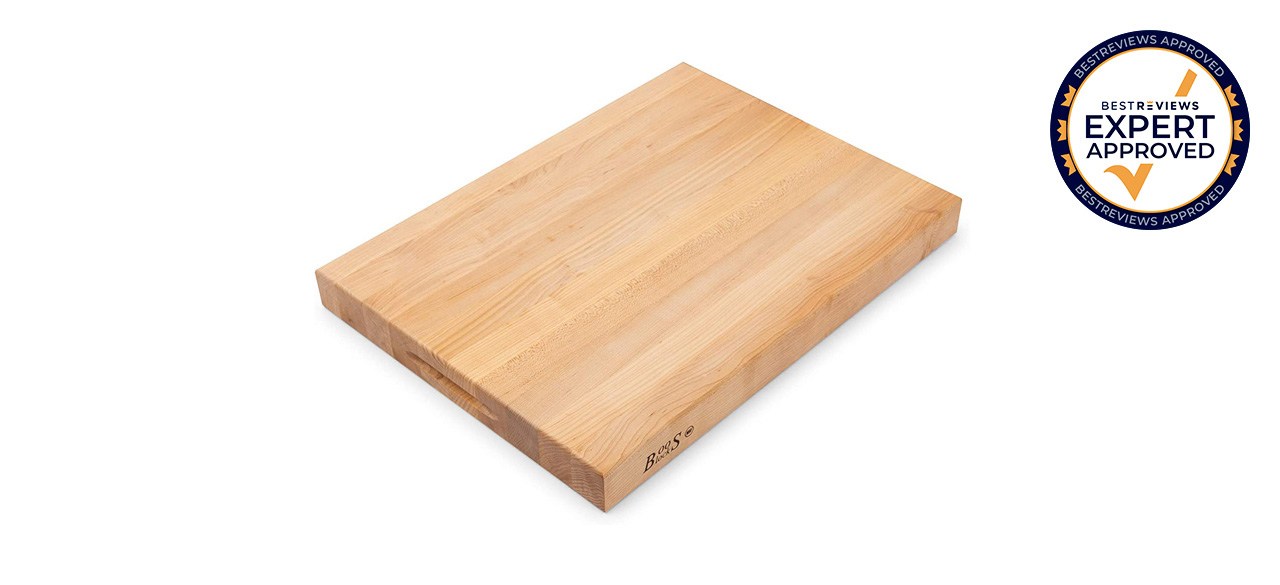 John Boos Maple Wood Edge Grain Reversible Cutting Board
Thanks to the strong maple wood construction, this cutting board is made to last and is perfect for slicing and chopping ingredients for your favorite recipes. It's also reversible and easy to clean.
Sold by Amazon, Home Depot and Wayfair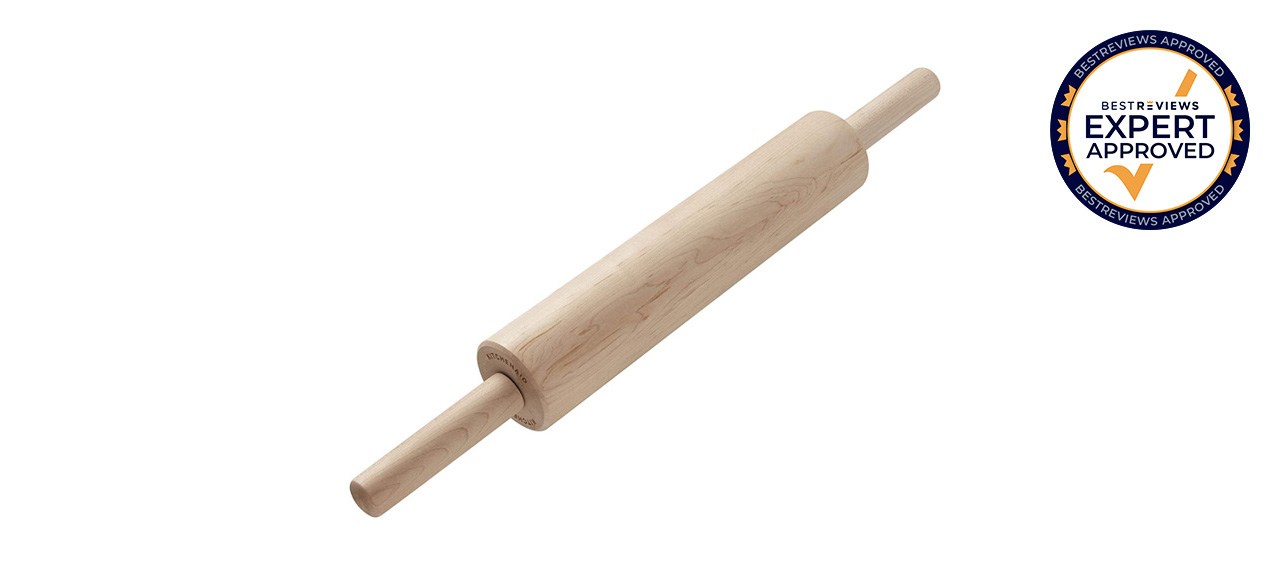 KitchenAid Maple Wood-Handled Rolling Pin
Preparing homemade dough for a beef and Guinness pie is easy with a sturdy rolling pin. Made of solid maple wood, this tool has easy-to-grip handles that provide leverage while you work.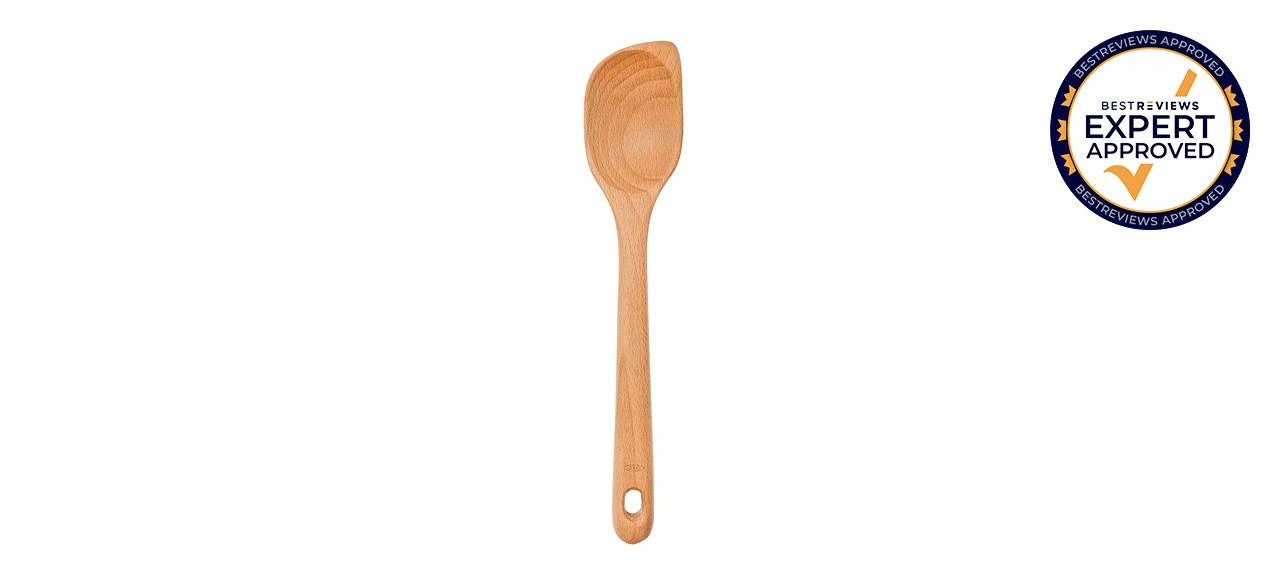 OXO Good Grips Wooden Corner Spoon
From stirring to serving, the right wooden spoon will serve several tasks when making Guinness pie and other recipes. This one is made of durable beech wood and features a square tip for scooping food from the edges and corners of cookware.
Sold by Amazon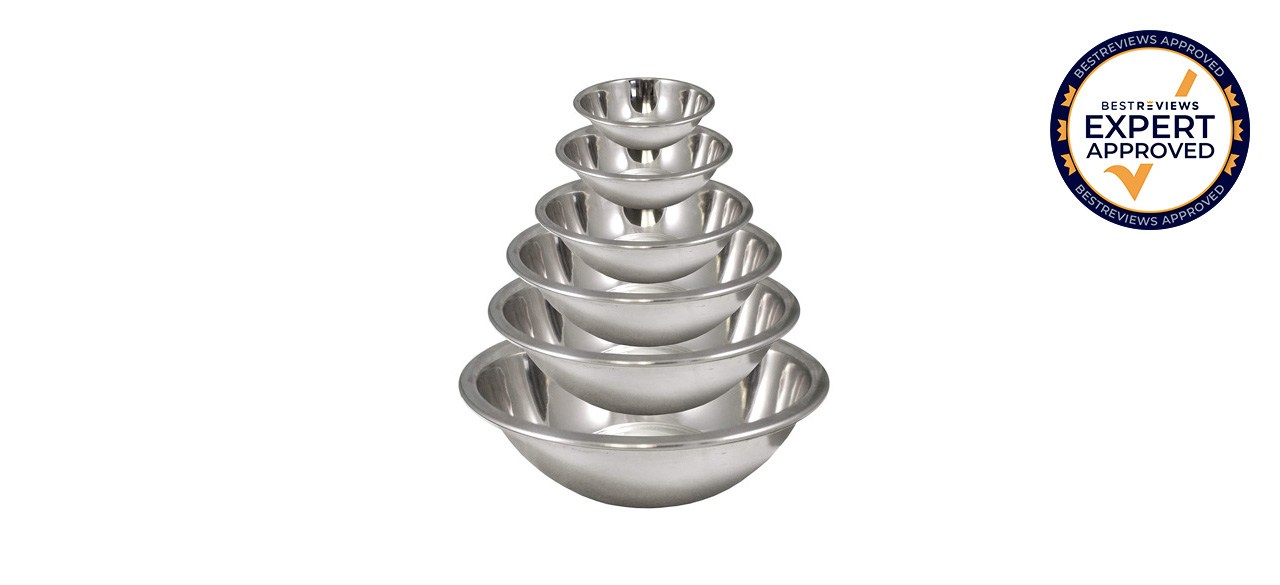 Homearray Stainless Steel Mixing Bowl Set
A set of bowls will come in handy for mixing and storing ingredients. This one includes six bowls in different sizes for numerous uses. They are made of long-lasting stainless steel.
Sold by Amazon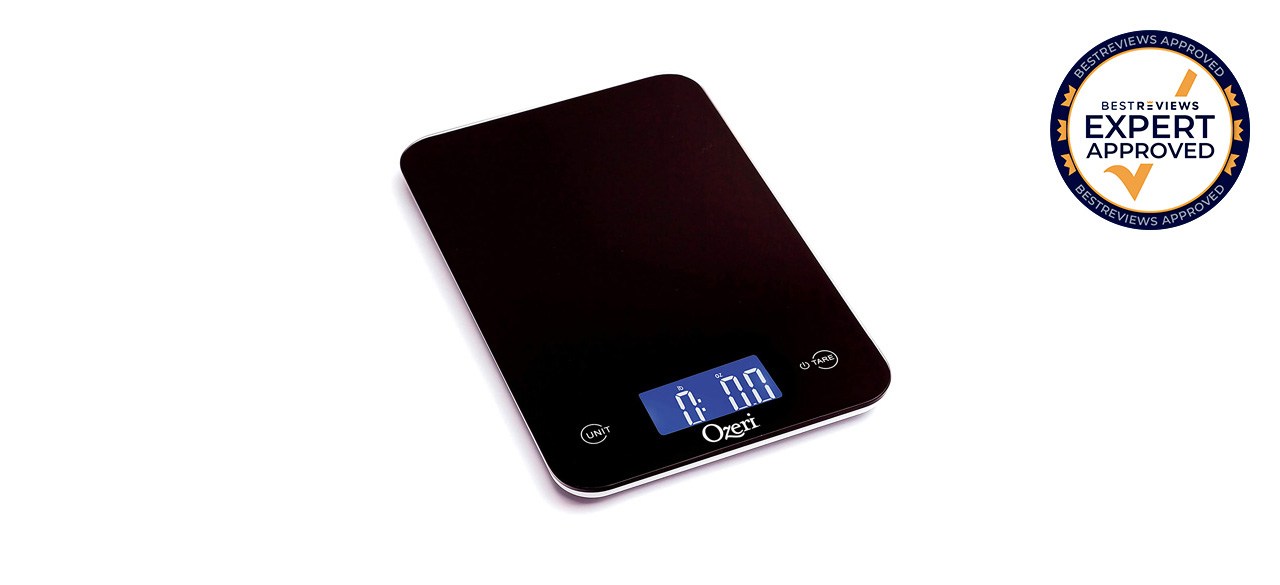 Ozeri Touch Professional Digital Kitchen Scale
This highly accurate scale will simplify measuring ingredients so your recipes turn out perfect every time. It's available in a wide selection of colors so you can match it to your kitchen decor theme.
Sold by Amazon, Home Depot and Wayfair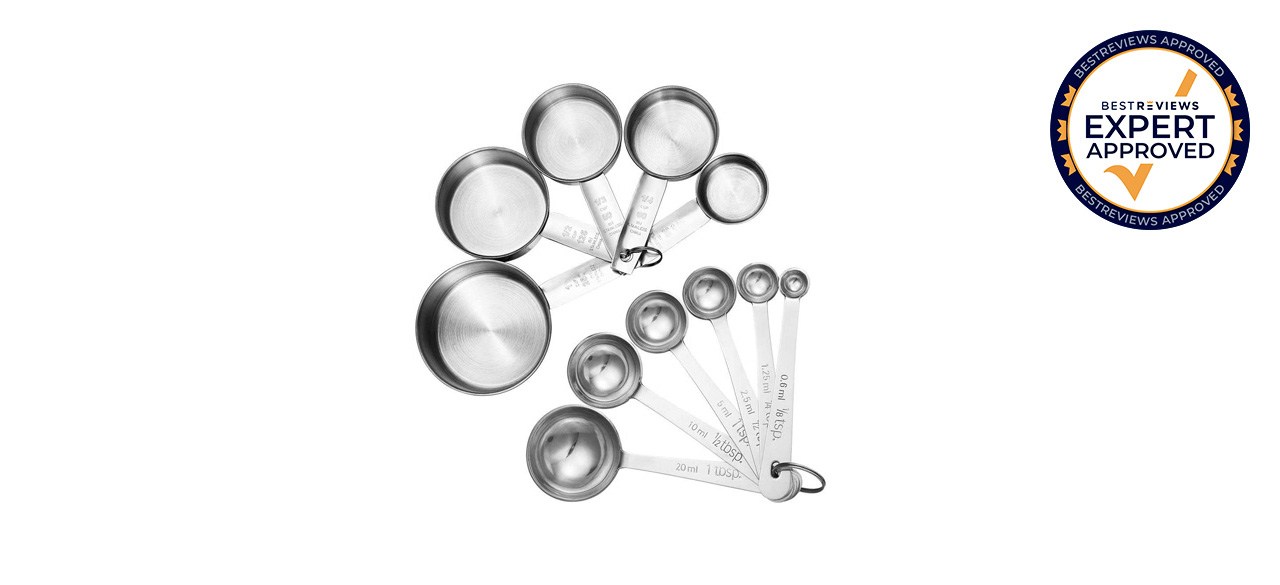 Accmor 11-piece Stainless Steel Measuring Spoons and Cups Set
You'll be able to measure your ingredients for any recipe with this comprehensive set of spoons and cups. Each of the 11 pieces is crafted of long-lasting stainless steel and has clear measurement markings on the handles.
Sold by Amazon
Other top products recommended by the BestReviews team
Want to shop the best products at the best prices? Check out Daily Deals from BestReviews.
Sign up here to receive the BestReviews weekly newsletter for useful advice on new products and noteworthy deals.
Jennifer Manfrin writes for BestReviews. BestReviews has helped millions of consumers simplify their purchasing decisions, saving them time and money.
BestReviews spends thousands of hours researching, analyzing and testing products to recommend the best picks for most consumers.
Copyright 2023 BestReviews, a Nexstar company. All rights reserved.