This is an archived article and the information in the article may be outdated. Please look at the time stamp on the story to see when it was last updated.
The latest Tik Tok trend
There's still a month left in the Lenten season, and thanks to TikTok, it might be hard to find fish. The latest craze moving into the mainstream is a discovery of canned piscine delicacies. This trend doesn't involve low-end products, such as tuna. It's an upscale fad that might include anchovies, smoked mussels or even caviar.
But the tinned fish is only part of the experience. The whole picture involves a charcuterie board, complete with bread, seasonings, vegetables, dips and more, along with a choice beverage such as a fine white wine.
In this article: Shanik Acacia Wood Charcuterie Board, Litehouse Freeze-Dried Herbs Variety Gift Pack Collection and Maille Mustard Variety Pack.
What is tinned fish?
While tinned fish might sound like an exotic combination of words, it's simply another way to say canned fish. Tinned fish is especially popular in Spain and Portugal, where it has been done for hundreds of years. It's a craft that requires a great deal of knowledge and skill, as the fish are typically canned in oils and spices that complement their natural flavor.
Contrary to what you might think, tinned fish have roughly the same nutritional value as fresh fish, only they last for years instead of days. Since tinned fish don't need to be refrigerated, they're nourishing snacks that can be taken out on a hike or a camping trip. However, the latest trend is to elevate the experience and create a gourmet tinned fish board.
How do you create a tinned fish board?
The beauty of a tinned fish board is it can be whatever you desire. Start with your favorite tinned fish and add some sliced artisan bread. Other essentials include seasoning, herbs, spices, mustard, salt, butter or any other taste you prefer. It's recommended you go with strong, contrasting flavors and textures, such as bitter, briny and crunchy, to balance out the oily fish. For a beverage, an aromatic white wine from Spain or Portugal should pair well. Create an impressive spread on a charcuterie board and you've just turned a snack into a gourmet event.
What you need for a tinned fish board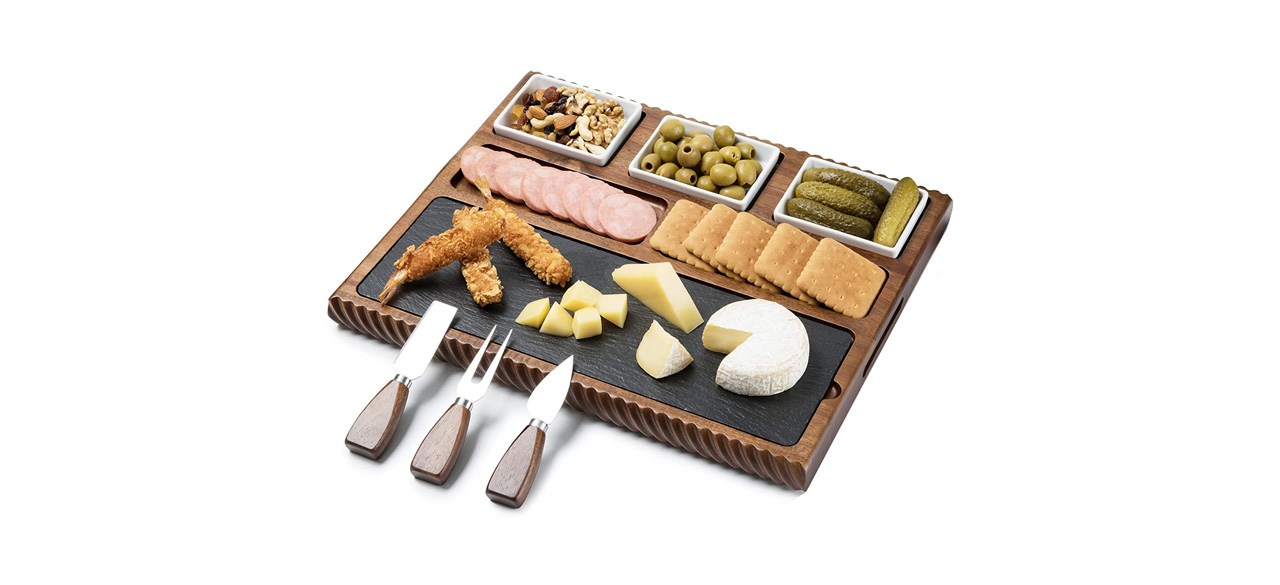 Shanik Acacia Wood Charcuterie Board
This beautiful wooden charcuterie board is elegant and versatile. It comes with a cutlery set, three ceramic containers and a removable black slate palette. The built-in trays can hold crackers, bread, cheese, croutons and other items.
Sold by Amazon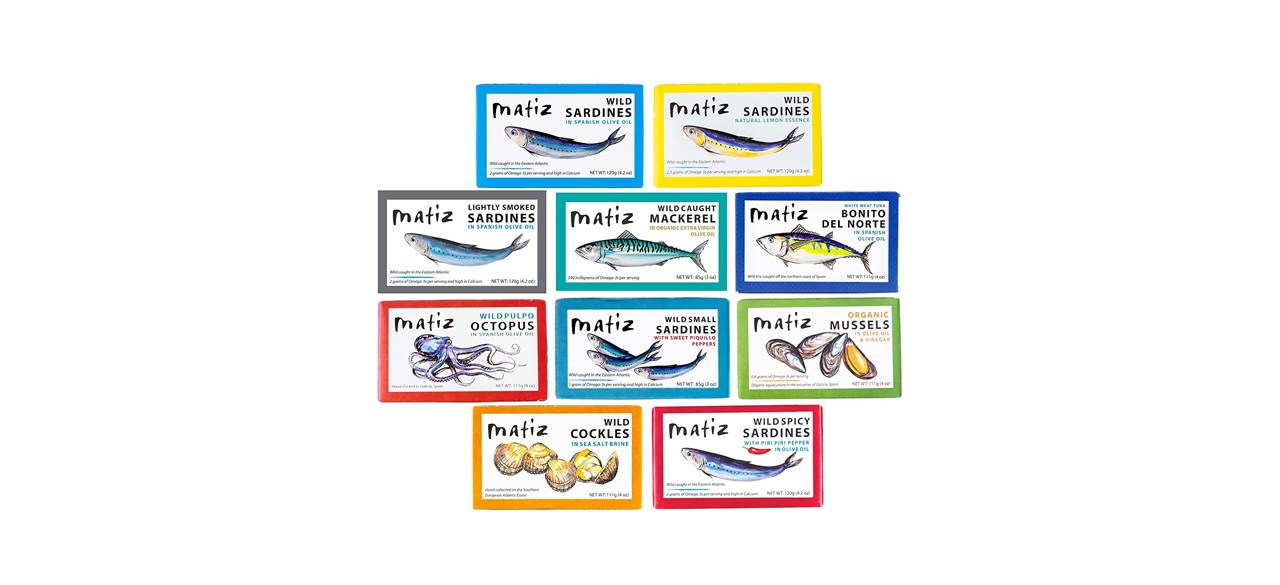 Matiz Seafood Variety Pack Sampler
This sampler provides a great introduction to tinned fish. You get sardines, mussels, octopus, mackerel, cockles and others in a variety of oils ranging from lemon to peri-peri pepper. These 10 tins can serve as your entry to this exotic world.
Sold by Amazon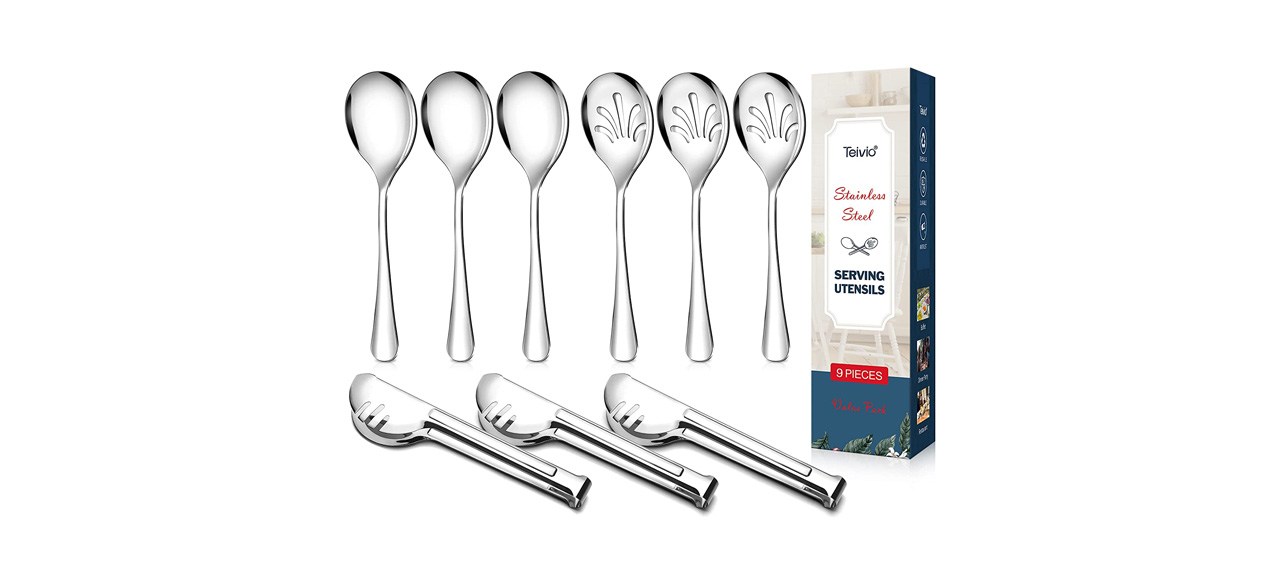 Teivio Stainless Steel Metal Serving Utensils
Don't serve this savory treat with your fingers. Instead, use this set of metal serving utensils. It comes with three serving spoons, three slotted spoons and three serving tongs. These stainless steel items have an impressive polish and are easy to handle.
Sold by Amazon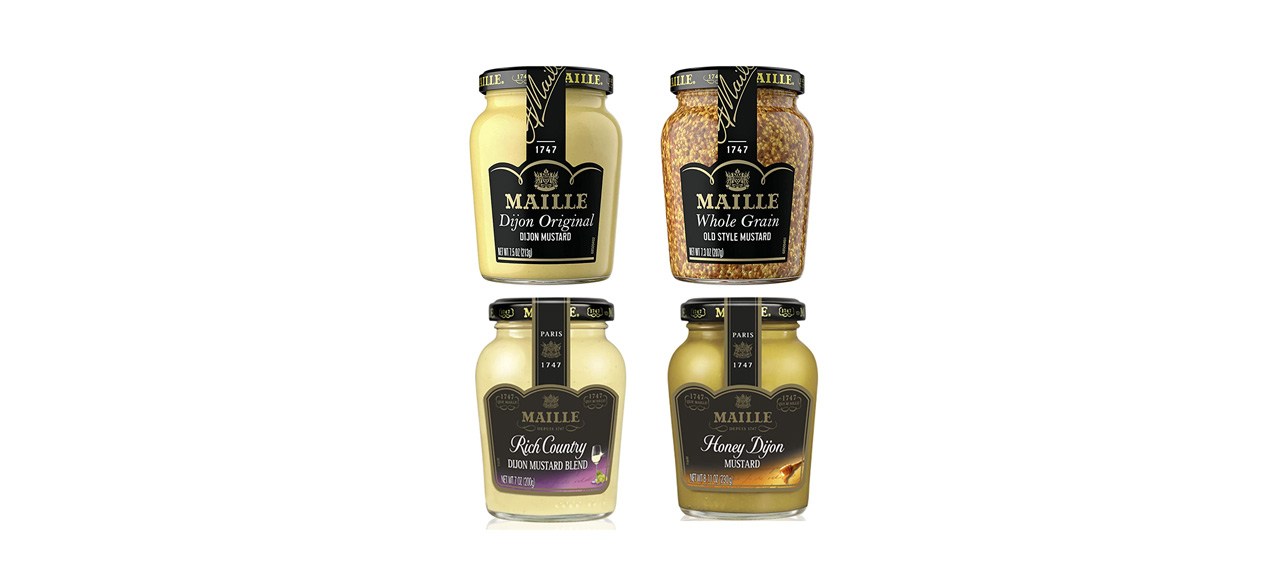 Whether you want to put it on the bread or use it to spice up your fish, this collection of mustards is just what you need. The set includes original dijon, country dijon, honey dijon and old-style whole grain mustard.
Sold by Amazon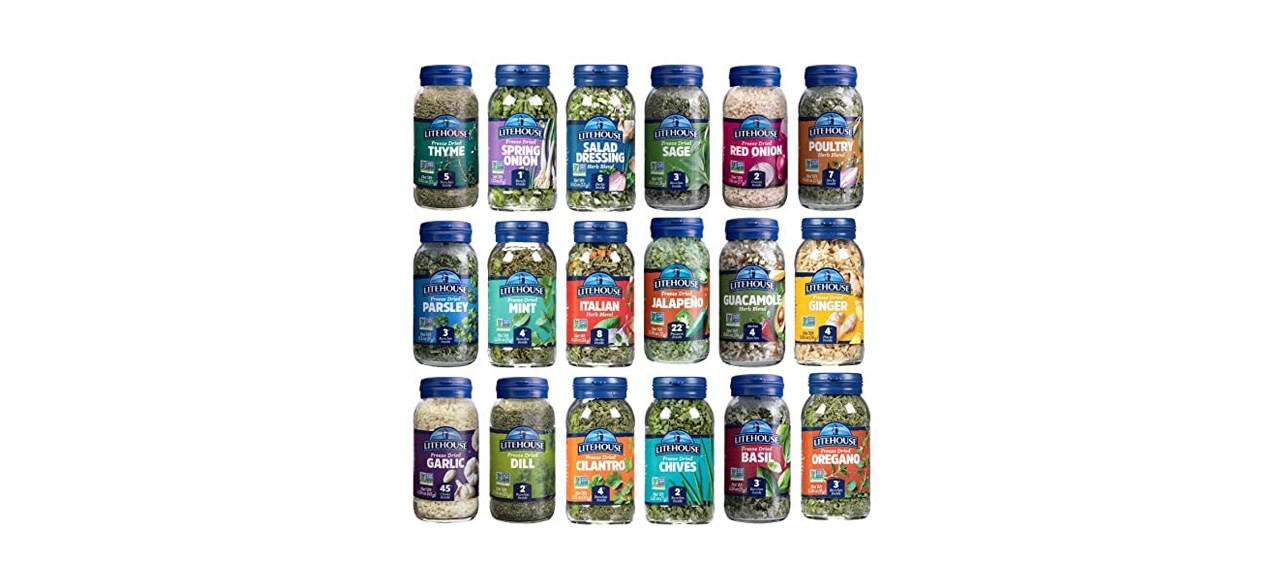 Litehouse Freeze-Dried Herbs Variety Gift Pack Collection
No matter what kind of flavor enhancement you desire, you'll find it in this collection of 18 freeze-dried herbs. It includes cilantro, dill, chives, thyme, sage and red onion. This extensive variety pack has everything your tinned fish board needs.
Sold by Amazon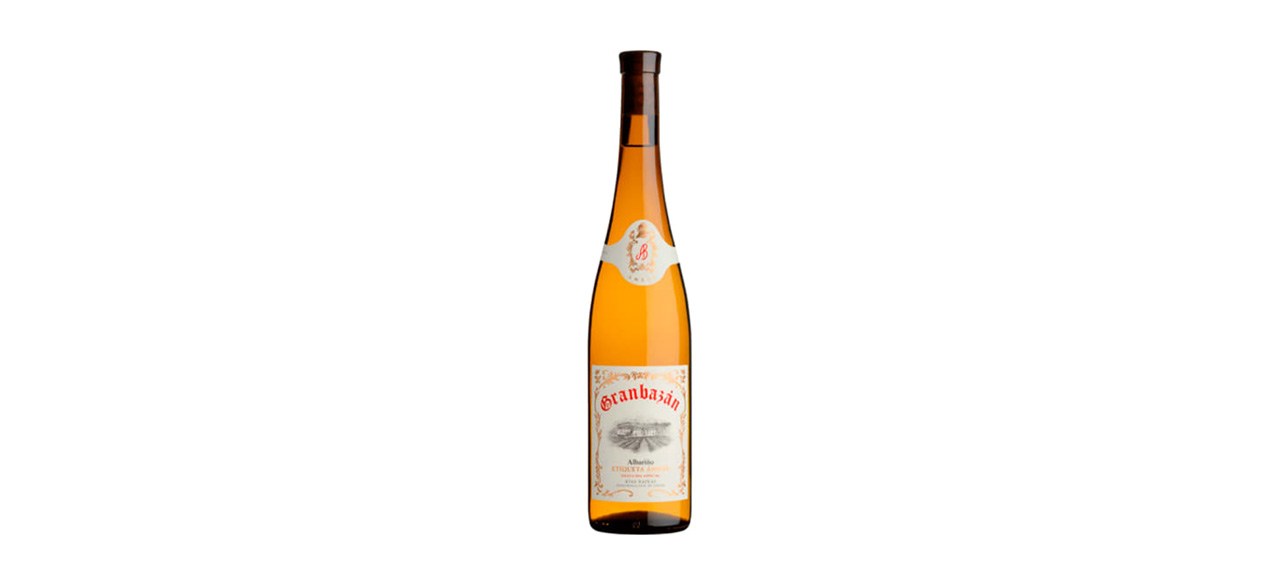 Granbazan Etiqueta Ambar Albarino 2021
This Albarino is from Rias Baixas, Spain. It's made from hand-picked Albarino grapes and features an aromatic rich nose of citrus, stone and tropical fruits. It has persistent flavors and a satisfying long finish.
Sold by Wine.com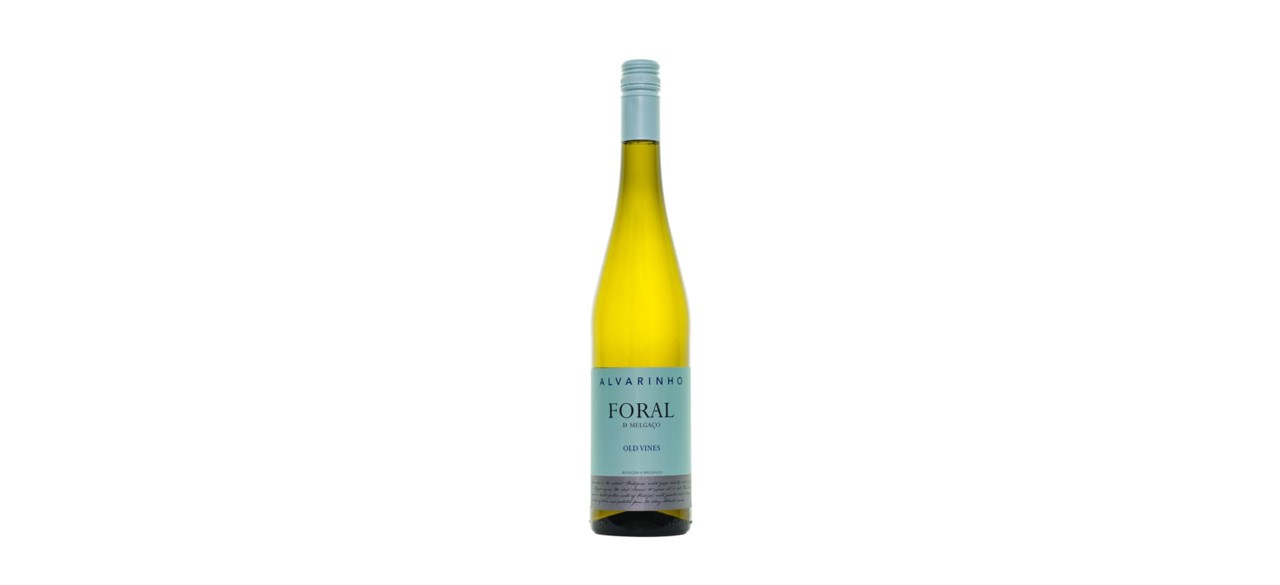 Quinta do Regueiro Foral Alvarinho 2021
This Albarino is from Vinho Verde, Portugal. It has intense aromas of citrus, apple, pear and floral scents with a tropical background. The full-bodied palate and vibrant acidity pairs exquisitely with fish.
Sold by Wine.com
Want to shop the best products at the best prices? Check out Daily Deals from BestReviews.
Sign up here to receive the BestReviews weekly newsletter for useful advice on new products and noteworthy deals.
Allen Foster writes for BestReviews. BestReviews has helped millions of consumers simplify their purchasing decisions, saving them time and money.
BestReviews spends thousands of hours researching, analyzing, and testing products to recommend the best picks for most consumers.
Copyright 2023 BestReviews, a Nexstar company. All rights reserved.