I spent much of last week on the road checking out more prospects. And, after briefly getting waylaid in Texas due to icy weather, I got back on schedule Thursday, took a quick trip Saturday and have now mostly covered my bases with live viewings of potential first-rounders in this year's draft. Here's what I saw and heard on the road, with updates on a few potential first-rounders.
Checking in on Jett Howard
After getting stuck in Texas for a couple of days due to icy weather, I got back to Chicago and caught Michigan against Northwestern on Thursday night, which was my initial viewing of this season's Wolverines, headlined by Howard, a freshman who, yes, is the son of Michigan coach Juwan Howard. It wasn't quite clear among scouts (even the optimistic ones) entering the season whether Howard was going to wind up as a one-and-done-caliber prospect. It didn't take him long to answer that question, though: Michigan is 13–10 and isn't a spectacular team by any means, but Howard has been quite impressive, including in a 34-point performance on Jan. 12 at Iowa in which he made seven threes and punctuated his case as a potential lottery candidate. He's regarded as one of the best shooters in the draft.
Howard was just O.K. against Northwestern, scoring eight points and attempting just one shot inside the arc, but I didn't walk away overly concerned: He's been dealing with an ankle injury in recent weeks, and his profile as a big, sweet-shooting wing who is athletic enough to hold his own defensively is pretty easy to assess. Howard's mechanics are compact and quick, his makes are always sweet and it seems like he's been challenging himself to take tougher shots this season and showing some growth in the process. Coming from an NBA gene pool never hurts, and while he plays nothing like his father did, Howard looks like a clean fit for the modern league.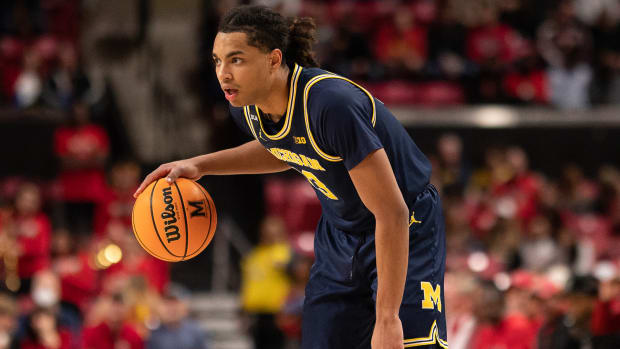 The question of how high Howard should be drafted is going to hang on how strongly teams buy him as having star upside, which I'd argue is present and lies in his potential to get hot shooting the ball and sustain it. That Iowa game was particularly enlightening as a result, as Howard proved he could take over a contest with the threat of his jumper and had to be accounted for no matter where he was on the floor. Those types of shooters are rare, and if Howard can be that type of menace to defenses every night, it'll matter less whether he makes or misses and more that opponents won't want to take that chance. Considering his positional size as a two-guard, the generally level-headed approach he's shown in games, and the untapped upside as he gets more comfortable playing off the dribble, I think Howard has started to cross the threshold from shooting prospect to scoring prospect. If he can really maximize his gift as a shooter, those lines can get blurry in a good way.
On the flip side, Howard is not a very explosive athlete and doesn't get great elevation around the basket. I don't know that he's ever going to live at the rim, but he will need to get more skillful and poised attacking defenses that over-rotate, because he's probably going to command a lot of hard closeouts if all goes well. He's also probably not going to be a defensive stopper, but he's big and attentive enough to hold his own on that end. Howard isn't a bad athlete, and I don't think those areas will make or break him, but for better or worse, what he'll become in the NBA will depend on his shot-making skills. I think there's enough there that it's worth getting excited about, and it wouldn't totally shock me if the shooting profile vaults him closer to pick No. 10 than pick No. 20 in the end.
Taylor Hendricks affirming first-round status
I traveled to Cincinnati over the weekend to see the UCF freshman play in person for the first time. The 19-year-old Hendricks was a later-blooming and perhaps under-evaluated high school prospect out of Fort Lauderdale, Fla., and finished his career as a consensus four-star recruit after winning back-to-back state titles. He wound up picking Central Florida over bigger-name offers due in part to the fact that the Knights were also willing to take his brother on scholarship. So while he wasn't a buzzy name in NBA circles before this season, this certainly isn't a case where a prospect is coming out of nowhere—it's more a testament to his development than anything else.
I was quite impressed with Hendricks's showing against Cincinnati on Saturday: His team lost due in part to a huge turnover problem, but Hendricks played a pretty complete game as a catalyst for the Knights. He scored 21 points on 14 shots and made four threes, also adding eight rebounds, a block and a steal. Hendricks has great size, plus the length and athleticism to defend multiple frontcourt positions, and he's a generally active player who doesn't shy away from contact and makes an effort on the glass. He's also a really promising shooter who happens to be 6'9" with projectable tools. When those types of stretch bigs come into the NBA already understanding how to play inside—and when they don't really need the ball a lot to make a huge impact—that typically creates a really high-value floor as a positive contributor.
Hendricks probably doesn't have a starry ceiling, as he's not a creative player off the dribble and likely won't have much offense run through him. On the flip side, UCF doesn't run much for him anyway, so it's possible there's a bit more here; Hendricks passes pretty well and has great feel overall for playing without the ball. He is also a reactive off-ball defender who reads the game quickly and often puts himself in the right place ahead of plays developing. All this stuff figures to translate pretty quickly going up a level. Hendricks is not an exceptionally explosive athlete by NBA standards, but his anticipation skills and positioning help cover for that.
Oversize 3-and-D frontcourt pieces are always useful, and, at this point, Hendricks doesn't appear to be a particularly complex eval for teams—it seems pretty safe to say that he'll come off the board in the middle of the first round. It's not wild to think he could sneak into the lottery, and my guess would be he'll be off the board by pick No. 20 or so. If he continues to trend upward, Hendricks should be a safe bet to return value on a rookie contract. Seeing him in person and understanding his physical impact on the game was worth the stop.
Don't fade Cason Wallace
Every year there are prospects that tend to get undervalued and perhaps taken for granted over the course of what can be a very long season and predraft process—typically they aren't super flashy or wildly projectable players, and people think their way out of them. Think about guys like Walker Kessler and Andrew Nembhard in last year's draft, who were both pretty established college players with good skill sets that sort of got nitpicked for not offering more, rather than being given full credit for the stuff they were already really good at. Both have exceeded expectations as rookies, and while a lot of that is a credit to their continued development, I do think the notion of functionally sound but aesthetically neutral prospects slipping in the draft process can be a thing.
I drove from Cincinnati down to Lexington on Saturday night to see Kentucky one more time against Florida, primarily to check in on Wildcats freshman guard Wallace, a player who I've generally liked quite a bit dating back a couple years. He's been a little up and down this season while dealing with some minor injuries, but fortunately, Wallace suited up this weekend and looked quite comfortable, scoring 20 points and also blocking three (!) shots in 27 minutes. There's not a lot to nitpick here: Wallace can run the team, he can move the ball, he can adequately catch and shoot, and he makes plays all over the place defensively, using his length and physicality to get the most out of his game at his size. (He's listed 6'4", but I'd guess he's on the shorter side.)
I don't have much new insight on Wallace at this point, frankly, which is a good thing—he's a steady player who I trust will contribute either as a high-level reserve or as a starter. He impacts winning and isn't selfish, and he's started to build out a more reliable pull-up jumper off the dribble. He shouldn't fall out of the lottery, and perhaps not even out of the top 10. Wallace isn't the guy teams should be overthinking as June draws closer.
Kobe Bufkin: Sleeper alert?
Lastly, keep a close eye on the Michigan sophomore guard, who is freshman-aged and appears to be turning a bit of a corner in conference play. Scouts were a bit skeptical after a very iffy freshman season in which Bufkin played sparingly, but he's clearly earned minutes and Juwan Howard's trust, playing a high-energy, competitive style that shone last week against Northwestern. Bufkin had 15 points, 12 rebounds, eight assists, two steals and a block and was clearly the best player on the floor, pouring in effort defensively and showing a real nose for making big and small plays. This is light-years from where he was a year ago, and while there will be some questions as to whether he can play point guard full time and whether he'll shoot well (he's at only 30% on the year from three), I do think there's some credence to what Bufkin is doing and value in what he can be moving forward. If he stays on this type of track, I think he's draftable, and it wouldn't shock me if he gathers some momentum with teams going into the spring.