Seventy-four games into the season, the Warriors finally achieved a feat that had eluded them all year long: They won consecutive road games. Golden State is now a robust 9–29 away from the Bay this season after a 127–125 win over the Mavs on Wednesday, a dispiriting mark in what's been a largely disappointing season for the defending champs. And yet, their win over Dallas also showed a glimmer of why it's so difficult to count out the Dubs.
First, the disappointing part: Golden State is 38–36 with eight games remaining before the postseason. For a team with Stephen Curry, Draymond Green and Klay Thompson, that is an embarrassment. Even though that trio has played in only 40 games together, that's still considerably more than the Bucks' top three of Giannis Antetokounmpo, Jrue Holiday and Khris Middleton (20 games). And Milwaukee has 52 wins. It's more than Ja Morant, Jaren Jackson Jr. and Desmond Bane have played together for the Grizzlies (23 games), but Memphis is ahead in the standings. It's also more than the number of times LeBron James and Anthony Davis have suited up together (28 games), and still the Lakers are hanging around despite needing to completely overhaul their roster. Simply put, the Warriors can't blame only their health. Their best players have been available enough.
One problem decidedly out of the control of Steph, Klay and Dray was the organization's vaunted "Two Timelines" experiment, which deserves to go down as an all-time bust. Before the season, Golden State rather proudly pushed the idea it could both win now as well as build for its next dynastic run. The experiment involved pushing away key vets and rotation mainstays during the offseason (Gary Payton II, Juan Toscano-Anderson, Otto Porter Jr., Damion Lee) and largely replacing them with younger players (James Wiseman, Jonathan Kuminga, Moses Moody). We already know how Wiseman turned out: The team dumped him at the deadline to bring back Payton. Kuminga has been promising but still has to prove himself in the playoffs. Moody is not consistently a real part of the rotation. And when players have been hurt or ineffective, the Dubs have had to turn to two-way guys such as Ty Jerome and Anthony Lamb, who, while having some decent moments, aren't scaring opponents.
Put more simply: The Warriors' front office played too much. You have Curry on your team playing nearly as good as he did when he was the unanimous MVP of the winningest team in NBA regular-season history. Why in the world are you concerning yourself with the future? It's not like the Dubs drafted some can't-miss prospect like Victor Wembanyama that would even warrant such a discussion. Not focusing all the team's efforts around Curry was always nonsensical. And the front office doesn't get extra credit for shelling out all that luxury tax money—that's the bare minimum owners should do when they are blessed with a generational talent like Curry, without whom the team wouldn't have been able to build its money-minting arena in San Francisco. No other star in the league had to deal with such a risky, let's-get-younger gambit. It's a baffling disservice.
This season is not how a championship defense is supposed to go when the team's best players haven't considerably slipped. Even Thompson, after a slow start to the year, has looked phenomenal over the last couple of months. Green continues to make all the winning plays that get under the skin of rivals and opposing fans alike. The organization unequivocally let down its core trio and has generally lucked out because a) the three are playing at a high level and b) none of them is seemingly the type to complain about it.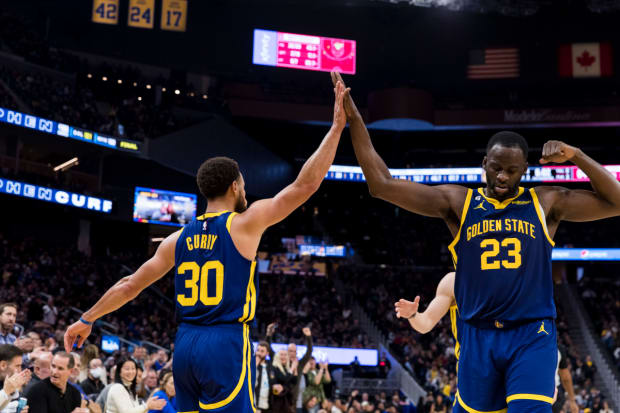 And despite all that, the Warriors may still be in great position to win the West. Even with their middling record, the Dubs are only one game out of fourth place—tied with Phoenix in wins, but two behind in the loss column. Golden State entered Thursday in sixth place, but the two teams ahead of them—the Clippers and Suns—are dealing with serious injuries. Phoenix is missing Kevin Durant for the foreseeable future, while Deandre Ayton is dealing with a hip ailment. Paul George could be out for up to three weeks for L.A. after spraining his right knee. With Steph, Klay and Dray all on the floor, Golden State is in prime position to climb into fourth place.
And an important undercurrent over the final eight games will be who can return in time for the playoffs. Andrew Wiggins hasn't played since Feb. 13 due to personal reasons. Wiggins was a key cog during last year's finals run. And the team has been incredible with him in the starting lineup. Of all five-man units that have played at least 300 minutes this season, the Warriors' group of Steph, Klay, Dray, Wiggins and Kevon Looney is still by far the best in the league with a 21.9 net rating. (The next best lineup is at 14.3.)
A return of Wiggins and GP2 would go a massive way for the Warriors. The dominant starting five would fall back into place. Payton would shore up the bench, which would also feature Kuminga, the dependable Donte DiVincenzo and Jordan Poole. That sounds like a very difficult team to beat. And there's also the fact the Warriors haven't lost a playoff series with Curry, Green and Thompson all healthy since 2016.
But it will be asking a lot for Wiggins and Payton to come back and cover up this team's warts. On paper, it's incredibly tantalizing. In practice, it's not easy for players who've missed that much time to be theoretically thrust into the intensity of postseason basketball. That's why the team should've never messed around with its roster construction in the offseason. The front office left no safety net for injuries. And now the team is in a fight to stay out of the play-in.
It should not have been this complicated for a roster headlined by one of the best trios in all of sports and an owner with deep pockets. In many ways, the Warriors brought this disadvantageous position on themselves. It's incredibly frustrating to think Steph's heroics could be wasted on a six-seed. And yet, the lack of a favorite in the West means the Warriors making a title run is still very much in play. It also means if the team had fully put its efforts behind winning now, it wouldn't have needed to be anywhere nearly this difficult.