When Aaron Nola was a senior at Catholic High in Baton Rouge, La., his baseball team underwent strength and flexibility testing from the training staff of the New Orleans Saints. One test involved pulling back the throwing arm and elbow until the player said it began to hurt. Nola did not flinch as his arm was pushed back farther and farther. His arm flexibility was off the charts.
The story is worth recalling on this day that the Phillies re-signed Nola, 30, to a seven-year contract that will pay him $172 million through age 37—even after a season in which Nola posted career worsts in slugging allowed, home runs and exit velocity while seeing his strikeout rate decline for a third straight year.
The Phillies did not see red flags in those underlying numbers. What they saw was one of the most durable starting pitchers in baseball who also is a hyper-flexible pitchmaker, not a power pitcher. And those facts are related.
Those same facts also will define the value of 5'10" free agent pitcher Yoshinobu Yamamoto, who will get more years and more money than not just Nola but also any free agent pitcher other than Shohei Ohtani.
As a rule of thumb, if you have the stomach to place a long-term bet on a starting pitcher, you can reduce the risk by betting on athletic pitchmakers rather than fastball-dependent power pitchers.
As one executive from a team interested in both Nola and Yamamoto explained, "We had debated which would be preferable, Nola or Yamamoto, with the expected difference in years [and] dollars. Both are very good and both [have] high-end pitchmaking skill, which should age pretty well."
Yamamoto, 25, is five years younger than Nola. His career in Japan has been amazing: 70–29 with a 1.82 ERA over 172 games. He throws his four-seam fastball about 45% of the time at about major league average velocity (93 to 95 mph). It's not a good enough pitch to throw that often in MLB (more on his flaws below), but the good news is Yamamoto, like Nola, will thrive because he is a master of mixing his secondary pitches (splitter, curve and slider) to complement his fastball.
Compared to active starters, Yamamoto's pitch profile is most like that of Nathan Eovaldi, who throws only 37% four-seamers (average velo: 95.1 mph) because, as one rival pitching coach said, "he knows it gets hit. It's not a plus-pitch." The executive who considered Yamamoto and Nola compared Yamamoto to Mike Mussina, David Cone and Tim Hudson, pitchmakers who remained durable and elite for years.
"Thinking through some of the better pitch skill types and how they adapted and maintained a high level for a long period of time," the executive said.
Nola is the 18th free agent pitcher in the past decade to sign a contract worth $100 million or more. Some of the biggest breakdowns and busts have been those who relied on power more than pitchmaking: Jacob deGrom, Carlos Rodon, Robbie Ray, Stephen Strasburg and Jordan Zimmermann, for instance. Gerrit Cole is a notable exception.
Pitchmakers such as Max Scherzer, Yu Darvish, Zack Greinke, Jon Lester and Masahiro Tanaka have generally returned better results. Zack Wheeler is a hybrid power pitcher/pitchmaker.
Let's dive into why pitchmakers Nola and Yamamoto are good buys: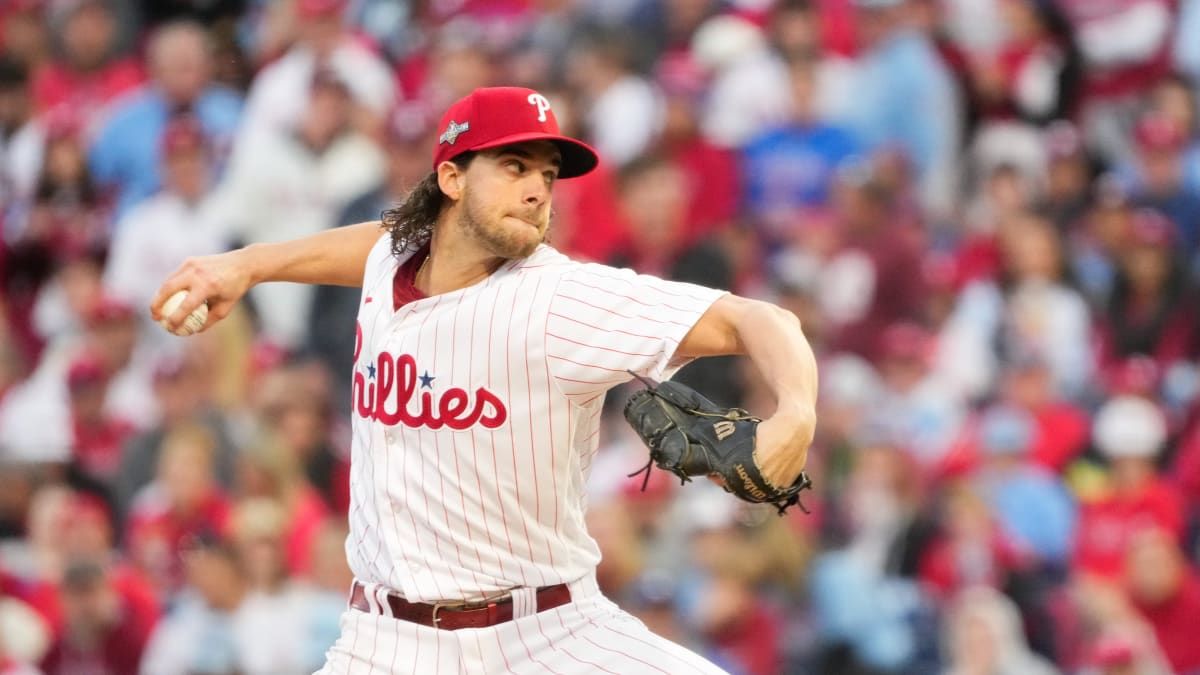 Aaron Nola
Greatest asset: Durability.
It's not just that Nola has been durable; he's also a safe bet to remain durable with the way he pitches. Here are the pitchers with the most quality starts over the past six years:
Most Quality Starts Since 2018

| | | |
| --- | --- | --- |
| Gerrit Cole | 117 | $36M |
| Zack Wheeler | 100 | $23.6M |
| Max Scherzer | 97 | $43.3M |
| Aaron Nola | 94 | $24.6M |
| José Berríos | 91 | $18.7M |
| Luis Castillo | 91 | $21.6M |
What do they have in common? All six pitchers signed contracts as free agents or in their platform season. Cole's four-seam fastball is the best in the game, so he should be qualified as a power pitcher even though his craftsmanship is also impressive. The other five durable starters all have lean physiques, athletic deliveries and below average vertical release points.
Stuff: Greater than the sum of the parts.
Nola's four-seam velocity is slightly below average, but it's also reliable. It has remained between 92.3 MPH and 93.1 mph every year since 2017. He consistently throws strikes and has a knack for mixing his pitches and hitting corners. This much has always been true for him: when he lands his curveball, he is an ace.
Delivery: Low effort.
His slingshot delivery also adds deception to his stuff. His hyper-flexibility allows him to lead longer with his right elbow and catapult the baseball from a low arm slot—similar to how Scherzer and Castillo unwind. One observation of note: Nola's release point is the eighth-lowest among starters, but it has gone up slightly four straight years.
Greatest risk: Age.
Even with his flexibility and pitch mix, Nola in the last years of his contract is a risk by age alone. Last year there were only four pitchers at 36 and older who cleared this low bar: at least 12 starts with an ERA+ better than average. They were Charlie Morton (before he broke down), Justin Verlander, Scherzer and Wade Miley. The last two years of Nola's contract are the cost of having him for the first five.
Yoshinobu Yamamoto
Greatest asset: Three plus secondary pitches.
Yamamato throws a slow, looping curveball, a hard, biting splitter and a nasty slider, giving him three put-away pitches that trace competing paths in front of a hitter's eyes. His command of those pitches is exceptional: he walked only 4.4% of batters and gave up two home runs in his 23 starts last season.
Stuff: He can thrive by throwing his fastball less, the way many pitchers do in MLB these days.
Yamamoto throws his fastball between 93 and 95 mph and can max out a couple of ticks higher. He also throws from—here we go again—a below-average release point, which helps his vertical attack angle on his fastball.
Delivery: Low effort, but there's more in the tank.
Yamamoto does not use his lower half well, generating little power from his legs. He also throws with flat shoulders, which generally, but not always, is an indicator that the fastball lacks life. Many premier fastball throwers will have tilted shoulders, with the back shoulder lower in the load phase of the delivery; picture a javelin thrower.
The same observations were made by scouts about Tanaka when he signed his seven-year, $155 million deal with the Yankees in 2014. They said his four-seam fastball would be prone to home runs, and they were right. Tanaka allowed a .323 average and a whopping .601 slugging percentage on his four-seamer during his MLB career. (He also threw with the same vertical release point as Yamamoto.)
Greatest risk: Height.
Yamamoto is 5'10", 176 pounds. There has been a traditional bias in the game against shorter righthanded starting pitchers, partly because there just are not many of them. Over the past 30 seasons, only four pitchers 5'10" or shorter have made 30 starts in a season more than twice: Mike Leake (eight times), Mike Hampton (seven), Marcus Stroman (four) and Sonny Gray (four). Coincidentally, Stroman and Gray are free agents this winter along with Yamamoto.
But it's unfair to ask Yamamoto to make 30 starts, at least as he first transitions to MLB, because his career high in Japan (in shorter seasons and with more off days) is 26. Leake, Hampton, Stroman and Gray are the only shorter pitchers to make 25 starts three times in the past 30 years. What do they also have in common? They are pitchmakers, not power pitchers.
Yamamoto will command more than $200 million because he is young, and he is a premier pitchmaker. He showed his competitive chops this year not just by dominating in the World Baseball Classic but also by throwing a 138-pitch complete game win when his Orix team faced elimination in Game 6 of the Japan Series. His manager, Satoshi Nakajima, said, "Regardless of the pitch count, I was betting this entire game on Yoshinobu." No pitcher has thrown 138 pitches in the World Series in almost a quarter of a century (142 by Al Leiter in Game 5 of the 2000 Fall Classic.)
Officially posted Monday, Yamamoto will set off a bidding war among half the teams in baseball, including the Dodgers, Yankees, Mets, Red Sox, Rangers, Giants, Cubs and Tigers. With Nola locked up for seven years, Yamamoto is looking at eight years or joining Cole as the only pitchers with nine guaranteed years.
If you adjust for inflation, Tanaka's $155 million in 2014 is a base of seven years, $204 million for Yamamoto. (Tanaka also was 25 at the time.) Eight years and $233 million looks possible, in which case a team also would have to kick in $36.8 million in posting fees to Orix.
Two hundred seventy million for a 5'10" righthander? It sounds risky until you look at it this way: $270 million for the prime years of one of the world's premier pitchmakers when durable, elite starting pitchers are only becoming harder and harder to find.