Plenty of news to get to, after the NFL's first full day in the desert …
• I thought Patriots owner Robert Kraft's words about Jerod Mayo on Monday were very notable. Because of the way the rules are, teams can't formally put succession plans in place. That said, Kraft walked right up to the line in explaining how Mayo is well-positioned to become New England's next coach whenever Bill Belichick walks away.
"There's no ceiling on his ability to be a head coach," Kraft said. "And he'll be a head coach, I'm sure of that. I hope he's with us. So we'll see what happens."
Mayo turned down a defensive coordinator interview in Cleveland, a really good shot to be defensive coordinator in Philly and a head coach interview in Carolina after meeting with Kraft following last season. The specifics of that meeting hadn't really surfaced until today. But what everyone surmised then, when Mayo walked away from all those opportunities, is pretty well manifested in Kraft's words.
• Another thing Kraft did Monday—he kicked a hornet's nest on Lamar Jackson, telling a small group of us the story of Meek Mill reaching out via text to let him know the quarterback wanted to come to New England. Kraft told the rapper that it was Bill Belichick's decision, and mentioned to us that the cap could be a problem in bringing Jackson aboard. But simply bringing it up highlights how the Jackson story very well might be just getting revved up.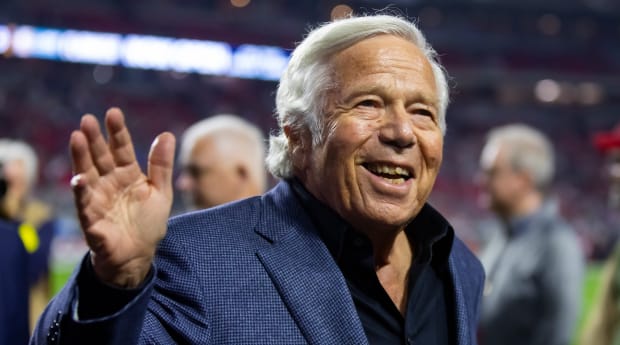 And there was another ripple in it you might've missed later in the day, when Colts GM Chris Ballard said to Indy reporters, on Jackson, "Any time a special player is available—which he is—you gotta do the work. I'm not gonna get into deep discussions on where it's at, what we're doing or what we might do, but he's a really special player. You never know how any of this will work out."
The Colts are a great example of one way this could play out. Indy has the fourth pick in the draft. And if they so choose, could wait until after the draft to sign Jackson to an offer sheet. That way, they could land, say, Will Anderson at 4, and give up '24 and '25 first-rounders for Jackson, picks they might think, with Jackson aboard, would land in the 20s anyway.
Now, the risk is you don't address quarterback in the draft, and then the Ravens match the Jackson offer sheet. But if Ballard isn't smitten with whichever ones are available to him at 4, he might be looking for a reason not to take one there in the first place.
• Pay attention to Jets GM Joe Douglas' word choice here on Aaron Rodgers—"There's no hard deadline. There's not a ton of urgency from our standpoint, but we're very optimistic."
The greatest piece of leverage in a negotiation is having the ability to sit on your hands and do nothing. For now, and really until Sept. 1 (when Rodgers' fully guaranteed $58.3 million option bonus is due), the Packers have that. What Douglas is saying here, then, is that he's not afraid at all to engage in a staring contest with Green Bay GM Brian Gutekunst.
Ultimately, I'd say the Jets need something to happen worse than the Packers do. But Douglas not letting on does help New York's cause. Now, if the Jets can convince Rodgers to get their receivers together to throw over at Summit High, Douglas could really drive the point home.
• While we're there, my guess would be that Odell Beckham to the Jets ends up happening. The price is the question. But if it's a $15 million ask, New York could get there with incentives built into a one-year deal.
• Add DeMeco Ryans to the chorus of guys saying Bryce Young's height is irrelevant—and you can count me as torn on that. Young definitely plays bigger than 5'10". That said, there's gotta be a reason he didn't run a 40 at the combine or pro day, and it's not because he runs 4.4. And I can say that there are very few guys 6'1" and under without a 40 time of 4.5 or better that make it long-term at that position. Drew Brees may be the only one.
So there's that plus the question about his frame, and bulk.
Now, every guy who knows Young will tell you he is a special player and person. If history is any indication, at his dimensions, he'll need to be to make it.
• Chargers coach Brandon Staley acknowledged that talks have started up with quarterback Justin Herbert's camp on a long-term deal, and it'd be smart for the team to try and get it taken care of sooner than later. That goes for Cincinnati and Joe Burrow, and Philadelphia and Jalen Hurts, too.
Why? The first one to go will set the market for the others. And there's a good chance the other two will try to use the first deal as a floor to negotiate off of.
• Bills coach Sean McDermott telling reporters that he'll call the defensive plays in 2023 is a big deal in that it'll change his workflow a bit, and the structure of a defensive staff that could lean on the experience of Leslie Frazier the last few years.
If McDermott does name a non-play-calling coordinator, senior defensive assistant Al Holcomb would make sense as the choice.
• 49ers GM John Lynch revealing that Brock Purdy is positioned to be the team's starter when he returns to health is hardly surprising, But it isn't a great commentary on where San Francisco stands on Trey Lance, two years after moving three first-round picks to get the former North Dakota State star.
Coming out, Lance was seen as having tremendous intangibles. We'll see if those show up in how he handles the challenge of making the quarterback decision harder on the Niners.
• I checked in with Raiders owner Mark Davis on bringing aboard Tom Brady as an investor in the WNBA's Las Vegas Aces, and he told me the story was actually really straightforward. Brady sat courtside last May at a game at Mandalay Bay, and was so impressed with how far the sport and league had come that he entered into talks to become a minority owner. He still needs to be approved by the league, but that's likely just a formality, with Brady set to be one of just two partners of Davis's with the Aces.
"It's great for the Aces, it's great for the league, it's great for women's sports in general," Davis said.
I then joked with the Raiders owner that he'd get a pretty good emergency plan at quarterback with Brady on board.
"How's his jump shot?" Davis responded.
• It sounds like the Thursday Night Football flex proposal will have trouble passing tomorrow. We'll see what happens.