FOXBORO — As the New England Patriots turn their attention to East Rutherford, NJ and a Week 12 matchup with the New York Giants on Sunday, coach Bill Belichick is putting the team on notice. 
In short, the "HC of the NEP" is telling his players to be prepared — ALL of his players. 
"I've told all the players the same thing: 'Be ready to go,'" Belichick told reporters on Tuesday morning. 'Everybody needs to be ready to play."
Belichick's sharp dispatch especially includes his quarterbacks, who have understandably come under the specter of scrutiny and speculation since the Pats 21-17 loss to the Indianapolis Colts in Week 10. In the game's waning moments, starter Mac Jones was benched after throwing an interception on a short-armed attempt to find tight end Mike Gesicki in the end zone. Jones' demotion gave way to second-year backup Bailey Zappe, who tossed a game-sealing pick into triple coverage. 
Accordingly, the Patriots future at starting quarterback has been awash with questions — from Jones' chances for keeping his job, to the duties being transferred to Zappe, third-stringer Will Grier or practice squad signal-caller Mailk Cunningham.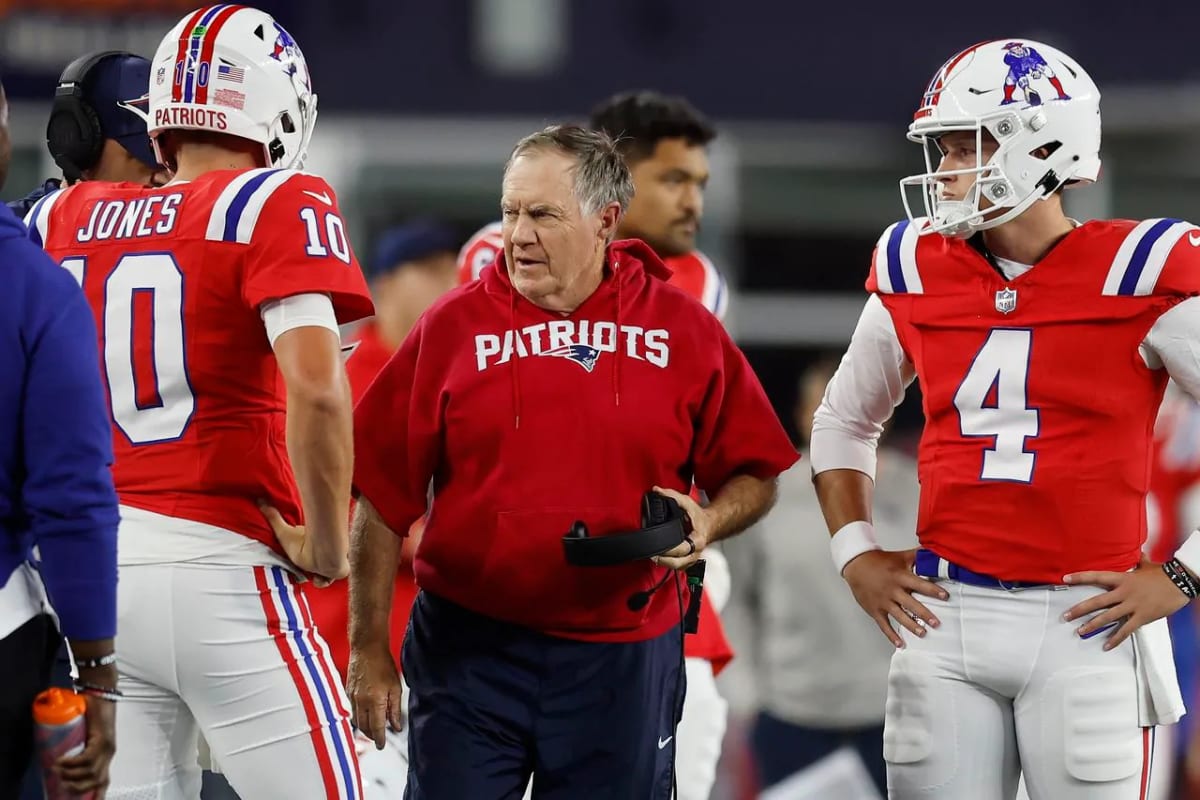 Still, in echoing the sentiments shared by offensive coordinator Bill O'Brien just one day earlier, Belichick is seemingly intent on making his players earn their spot on Sunday's game day roster. In their lone bye-week practice last Wednesday, Jones took reps with the first-team offense, while both Zappe and Grier saw action with the second and third teams respectively. The evaluating process — or pseudo-competition, if you will — will continue when the Patriots take the practice fields at approximately 1 p.m. ET on Tuesday afternoon. Based on the decree of their head coach, all four quarterbacks should be expected to take extensive snaps.
Related: Bill O'Brien: Patriots Starting QB Will 'Earn' Job at Practice
"Look, at the quarterback position, you could run four times as many plays as we run and probably still not have as many reps as they'd want to have," Belichick said. "All of the quarterbacks, they can go all day. They can take a lot of snaps, and they want to, going back to Tom [Brady] and all the other quarterbacks we've had. They'll take as many snaps as we can run."
Though the week's practice schedule will be interrupted by Thursday's Thanksgiving holiday, Belichick remains confident that his coaching staff has adequate time to absorb, evaluate and decide on the best choice to lead his team onto the MetLife Stadium field on Sunday. Despite being under fire for his own performance in guiding a 2-8 team to the Conference cellar, the 71-year-old coaching legend is staying true to his bedrock philosophy when making personnel decisions. 
"It will be based on what I think is best for the team," Belichick said when prodded about which way his thoughts may be leaning. "I've told everybody to be ready to go. Hopefully they will."
As for providing a timetable for making his choice, Belichick was equally steadfast in his message to the media. 
"We'll let you know on Sunday," he added. 
---