With visions of bye-week respite shrinking in their proverbial rearview mirror, the New England Patriots were back to work on Monday in preparation for their Week 12 matchup with the New York Giants on Sunday at MetLife Stadium. 
Despite the numerous questions surrounding the team and their 2-8 record, the Pats choice of starting quarterback remains it most pertinent. Will beleaguered incumbent Mac Jones get the chance to retain his job, or will he yield the reins to second-year backup Bailey Zappe or relative newcomer Will Grier?
According to offensive coordinator Bill O'Brien, that decision will soon be made by head coach Bill Belichick. Until then, O'Brien will prepare his offense — including his quarterbacks — for the road ahead. 
"For me, I basically get everybody ready to play," O'Brien told reporters via videoconference on Monday morning. "At the end of the day, Bill [Belichick] will make that decision at some point and we'll go from there."
Entering the bye week, the Patriots offense ranked No. 31 in the NFL, averaging 14.1 points per game. For better or worse, the quarterbacks have shouldered the majority of the blame — especially Jones. The third-year product of Alabama has completed 65.4 percent of his passes for 2,031 yards, 10 touchdowns and 10 interceptions through the season's first 10 games. 
Though there have been some signs of his ability to competently lead his team — including his orchestrating a textbook, game-winning drive against the Buffalo Bills in Week 8 — Jones' inability to make sound decisions when most needed has caused an obvious regression from which he seems ill-suited to recover. His discomfort in the pocket has led to a foundering of both his confidence and his mechanics — as well as his being benched in three of New England's games to date.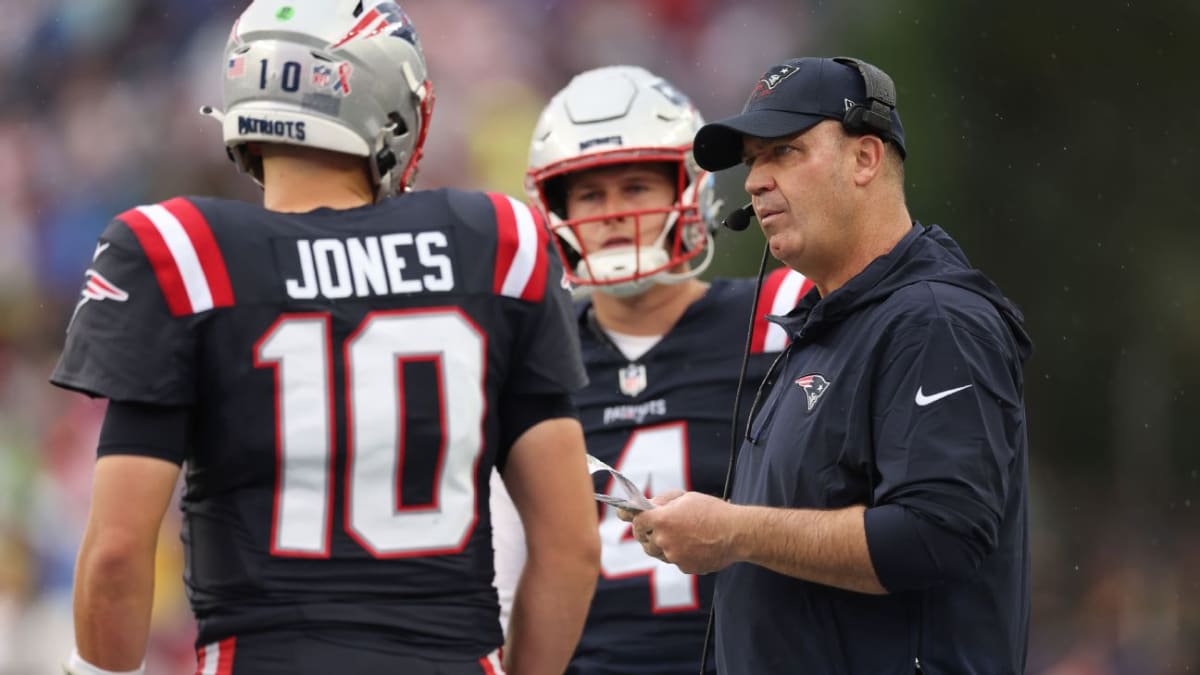 Consequently, O'Brien and his coaching staff must prioritize their attempts to repair both his timing and process. In their lone bye-week practice last Wednesday, Jones took his snaps with the first-team offense, while Zappe and Grier received increased looks with the second and third team units. However, O'Brien was careful to advise that the job would likely be given to the player who "earns it on the practice field." 
In short, Jones has seemingly yet to be officially removed from his role. However, if the Pats are unsatisfied with his performance, they may have no choice but to make an in-season change at quarterback. 
Related: Patriots Report Card: Any Passing Grades?
Still, the Pats must exhibit caution in deciding whether or not to demote Jones. Zappe has only completed 10 passes for 104 yards and an interception during three appearances in relief-duty. Despite Grier's impressive arm, he has yet to take an in-game, competitive snap for New England this season. Lastly, rookie Malik Cunningham has largely underwhelmed in his limited duties, save for leading an exciting, game-ending drive in the Pats' preseason opener against the Houston Texans. As such, Cunningham has mostly remained a mainstay on the Pats' practice squad. 
Without a clear-cut superior option to usurp the starting job, the Patriots appear to be prudently taking a comprehensive approach to the third-year quarterback's position on the depth chart. Though it seems that nothing has been decided, anything remains possible. In that vein, O'Brien offered what may be described as an expression of hope in Jones — despite the tabloidish rush to judgment that New England's currently starter is suffering from the "yips."
"Everything's fixable," O'Brien said with a purpose. "I think it's really important to point out that there are 10 other guys on the field [and coaches on the sideline]... I don't believe in 'yips.' Mac has played well and Mac will play well again."
The Patriots will return to the practice fields adjacent to Gillette Stadium on Tuesday afternoon. 
---