It didn't take long for Kyrie Irving's trade request to come to fruition.
The Nets' guard asked to be dealt on Friday and by Sunday the front office had agreed to terms with the Mavericks. Brooklyn sent Irving and Markieff Morris to Dallas in exchange for Spencer Dinwiddie, Dorian Finney-Smith, a 2029 first-round pick and second-round picks in 2027 and 2029.
The trade, which was completed in advance of the Feb. 9 trade deadline, altered the NBA futures betting landscape by shortening the Mavericks' title odds and lengthening the Nets' odds, both contenders in their respective conferences.
Dallas owned the 12th-best title odds (+2500) last week. Now, with another All-Star alongside Luka Dončić, those odds have been cut in half to +1200, seventh-best in the league. The Mavericks (28-26) occupy sixth place in the tight Western Conference playoff race, where just three games separate third place from 10th.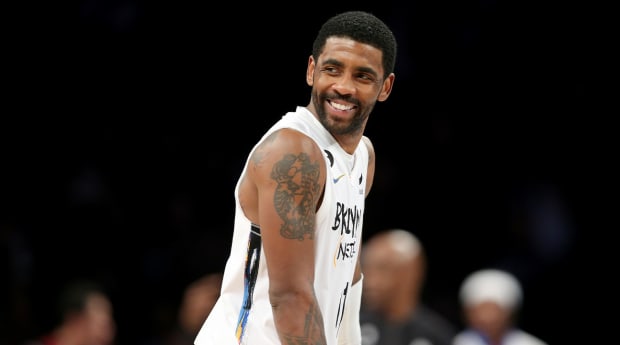 Brooklyn was tied with Milwaukee for the second-best title odds (+550) this time last week. After Irving asked out, the odds quickly lengthened to +1200 amid the uncertainty. Now that the deal is complete, its odds have dropped to +1900, 11th-best in the NBA. The Nets (32-20) are in fourth place in the Eastern Conference but are just 8–8 so far in 2023.
Kevin Durant is the last remaining piece of the Big 3 Brooklyn assembled two years ago. James Harden was traded away at the deadline last season and now Irving has been shipped off as well. Durant requested a trade in the offseason but rescinded it before the start of the season. He's in the midst of one of the most efficient seasons of his career, but hasn't played since Jan. 8 due to a sprained MCL. The Nets are 6–7 without him this season.
Dinwiddie, who is back in Brooklyn where he played from 2017-2021, averages 17.7 points per game and shoots more than 40% from deep. Finney-Smith's numbers are down from last season but he's still a capable three-and-D forward who will help bolster the Nets' defense.
The addition of Irving, who's averaging 27.1 points per game, will take some pressure off Dončić, who's in the midst of setting a new career-high usage rate this season (38.5%). The trade gives Dončić a backcourt partner similar to what Dallas had with Jalen Brunson a season ago before he left in free agency.
Irving is set to hit unrestricted free agency this summer as he is in the final season of a four-year contract he inked with the Nets.
The Mavericks advanced to the Western Conference finals a season ago, the furthest playoff run of Dončić's career. Meanwhile, the Nets have had spotty postseason performances over the last four years with just one playoff series win to their name during Irving's tenure with the team.
Boston Celtics +300
Milwaukee Bucks +400
Denver Nuggets +700
Philadelphia 76ers +850
Memphis Grizzlies +900
Golden State Warriors +1100
Dallas Mavericks +1200
Los Angeles Clippers +1300
Phoenix Suns +1700
Cleveland Cavaliers +1700
Brooklyn Nets +1900
---
If you or someone you know has a gambling problem and wants help, call the National Council for Problem Gambling 1-800-522-4700.