Welcome to a Final Four nobody predicted but many saw coming. The specifics—three first-time programs, two mid-major conferences, zero teams from the top three seed lines—are stunning, but the general upheaval shouldn't be.
Men's college basketball was torqued inside-out like an umbrella in a windstorm this season, so this is an appropriate result. The existential question began in November and never really dissipated: is anyone in this sport really good?
We were fresh out of undefeated teams on Jan. 2, one of the earliest dates ever. The AP No. 1 ranking changed hands seven times, and nobody held that ranking for longer than four weeks. There was a pileup of pretty good, and no readily apparent greatness.
So, yeah, the complete detonation of the bracket isn't without early warning signals. Especially when the flaws of the top teams were there for the scrutinizing: Purdue has become an annual tournament train wreck; Alabama is now a three-time March Madness underachiever under Nate Oats; Houston has a ceiling it has not been able to crack; Marquette coach Shaka Smart has a shaky tourney record to answer for, and Arizona's Tommy Lloyd is Shaka on training wheels (without the Final Four); UCLA was injured; Gonzaga's conference affiliation does it no favors; and so forth. Throw in a Bill Self heart issue and there was a lot of fallibility among the favorites.
The end result: an Elite Eight without a No. 1 seed for the first time; and a Final Four without a top-three seed for the first time; the second-highest seed total (23, topped only by the 26 in 2011. This free-for-all is a challenge to the established tournament dynamic that plays the best with the viewing public: upsets early, bluebloods late. Instead, we have upsets early, upsets late, and a lot of new faces crashing the party in Houston.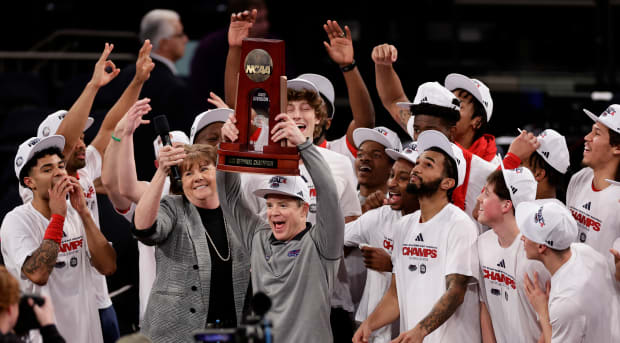 Last year was a CBS fever dream: Duke, North Carolina, Kansas and Villanova. Blueblood City. Coach K's last dance. (And Jay Wright's, as it turned out.) A Tobacco Road semifinal grudge match. Two taut games. The Jayhawks cutting down the nets. There was a lot of ratings-friendly content in New Orleans in 2022.
This year? Two of those programs didn't make the field, and the other two were gone in the first weekend. So was Kentucky and Indiana and Purdue. Bedrock basketball areas were knocked out quickly and quietly.
Everyone's brackets are in smithereens, and nobody knows much about Florida Atlantic, San Diego State or even Miami, which doesn't move the needle much despite being an Atlantic Coast Conference team with a solid recent history. Connecticut has cache, but it's been dormant for several years as the Huskies have wandered since the Shabazz Napier-led, I Went To Bed Hungry national title of 2014.
Is this a sea change of sorts in the sport? Probably not. There is a temptation to make sweeping statements about an all-chaos Final Four—NIL! Transfer portal!—but it might be misplaced here. If this is a Halley's Comet season, we can all gaze at it and contemplate the grand meaning of the cosmos. Or we can just enjoy the wild light show as it passes.
There certainly are modern factors at work. Miami is a name, image and likeness winner, with a well-compensated backcourt leading the Hurricanes to Houston. But while San Diego State has impact transfers, it has been pulling in impact transfers for many years—well before the portal became a thing. Florida Atlantic and Connecticut are largely organically built: four of the five Huskies starters have spent their full college career at the school, and the only first-year transfer having an impact at FAU is Jalen Gaffney (from UConn, coincidentally).
Bottom line, the tournament has been great again. Just a different kind of great. Wildly unpredictable, with myriad breakthroughs. There is an under-seeded Conference USA champion in FAU, which shouldn't have been a No. 9; a San Diego State program that has been excellent for nearly 20 years but never made it past the Sweet 16; a Miami team led by a coach with Final Four experience and eight 20-win seasons at the school; and UConn, which has won four national titles since 1999 but has broken cleanly with the Jim Calhoun Era and now is making its way under Danny Hurley.
What the Final Four lacks in flash, it makes up for in the fundamental building blocks of college sports. There are a lot of players who have made long-term investments in the enterprise (perhaps involuntarily, because they're not good enough to get drafted, but whatever.) There likely are no one-and-done players in this quartet of teams, but there are fifth-year guys who have been invested for years in getting their programs farther than they've ever been before.
Returns on personal investment: fifth-year FAU senior Michael Forrest knocking down four free throws in the final seconds to get the Owls past Kansas State; fifth-year San Diego State senior Aguek Arop rising up for two key baskets against Creighton after doing nothing for nearly two full games; fifth-year Miami senior Jordan Miller scoring a career-high 27 points on perfect shooting (7-of-7 from the field, 13-of-13 at the line) against Texas; fifth-year UConn senior Joey Calcaterra making key shots and forcing a key turnover as the Huskies pulled away from Gonzaga.
What the Final Four lacks in pre-established coaching chops, it welcomes in new storylines. There are rising stars Dusty May of FAU and Hurley of UConn—May a former Bob Knight manager at Indiana, Hurley a member of one of the most celebrated basketball families in America. San Diego State's Brian Dutcher is hardly a newcomer at age 63, with a nearly-three-decade history of assisting Steve Fisher at Michigan and San Diego State before taking over the top job in 2017. Miami's Jim Larranaga, age 73, punched this Final Four ticket exactly 17 years to the day after his first one as a Cinderella at George Mason.
In football terms, there is no Georgia or Alabama or Ohio State here. But the complaint you always hear about the football playoff is the lack of new blood. That's why TCU was a welcome addition—until losing the championship game by 56 points.
This is nearly a full Final Four of TCUs. The exception is UConn, which might well obliterate the field the rest of the way in the same manner that it has so far.
This Final Four is fresh and strange. It's the byproduct of an unpredictable tournament that is, in turn, the byproduct of a jumbled season. Embrace it for what it is, as opposed to trying to guess what it might mean.